Strategi Marketing UMKM "ETES" Melalui Digital Marketing Terhadap Penerapan Integrated Marketing Communication (IMC)
Keywords:
Digital Marketing, MSMES, Marketing Strategy
Abstract
Micro, Small and Medium Enterprises (MSMES) engaged in the world of Food and Beverage (F&B) in the Sentul Village area are one of the community service partners. One of these partners was established by the RT 01 association in the Sentul Village area with the lack of a conventional marketing system owned by these MSMEs. By providing various trainings and also providing socialization on the importance of digital marketing so that the marketing system can be improved so that it can cover more business targets and can be a better sales support. MSMES are also provided with service assistance in creating business accounts on digital media such as Instagram, Tiktok, Facebook, and Google Business accounts with optimal digital media management. marketing communication is able to build a brand. In line with the above, marketing communication is an effort to convey messages to the public, especially target consumers, regarding the existence of products in the market, so that they contribute to brand awareness for the company.
References
Aulia Afra Destrina, Galvin Christian Lukyanto. dkk. (2022). Pentingnya Peran Logo Dalam Membangun Branding Pada UMKM Rajutan BKL Bismo. Volume 2 Nomor 2.
Billah, M., M Nurkholish Majid. ,dkk. (2022). PEMANFAATAN SAWI SEBAGAI PRODUK OLAHAN INOVATIF "STIK SAWI" DI KELURAHAN SENTUL, KOTA BLITAR.
Jannatin, R., Wardhana2, M. W., Haryanto, R., Pebriyanto, A., & Banjarmasin, P. N. (2020). PENERAPAN DIGITAL MARKETING SEBAGAI STRATEGI PEMASARAN UMKM.
Keke, Y. (2015). KOMUNIKASI PEMASARAN TERPADU TERHADAP BRAND AWARENESS.
Purwana, D., Rahmi, R., & Aditya, S. (2017). Pemanfaatan Digital Marketing Bagi Usaha Mikro, Kecil, Dan Menengah (UMKM) Di Kelurahan Malaka Sari, Duren Sawit. Jurnal Pemberdayaan Masyarakat Madani (JPMM), 1(1), 1–17. https://doi.org/10.21009/jpmm.001.1.01
Press, T. U. (2018). Riset Komunikasi Pemasaran Terpadu. (W. W. Nufian Febriani, Ed.) Malang: UB Press.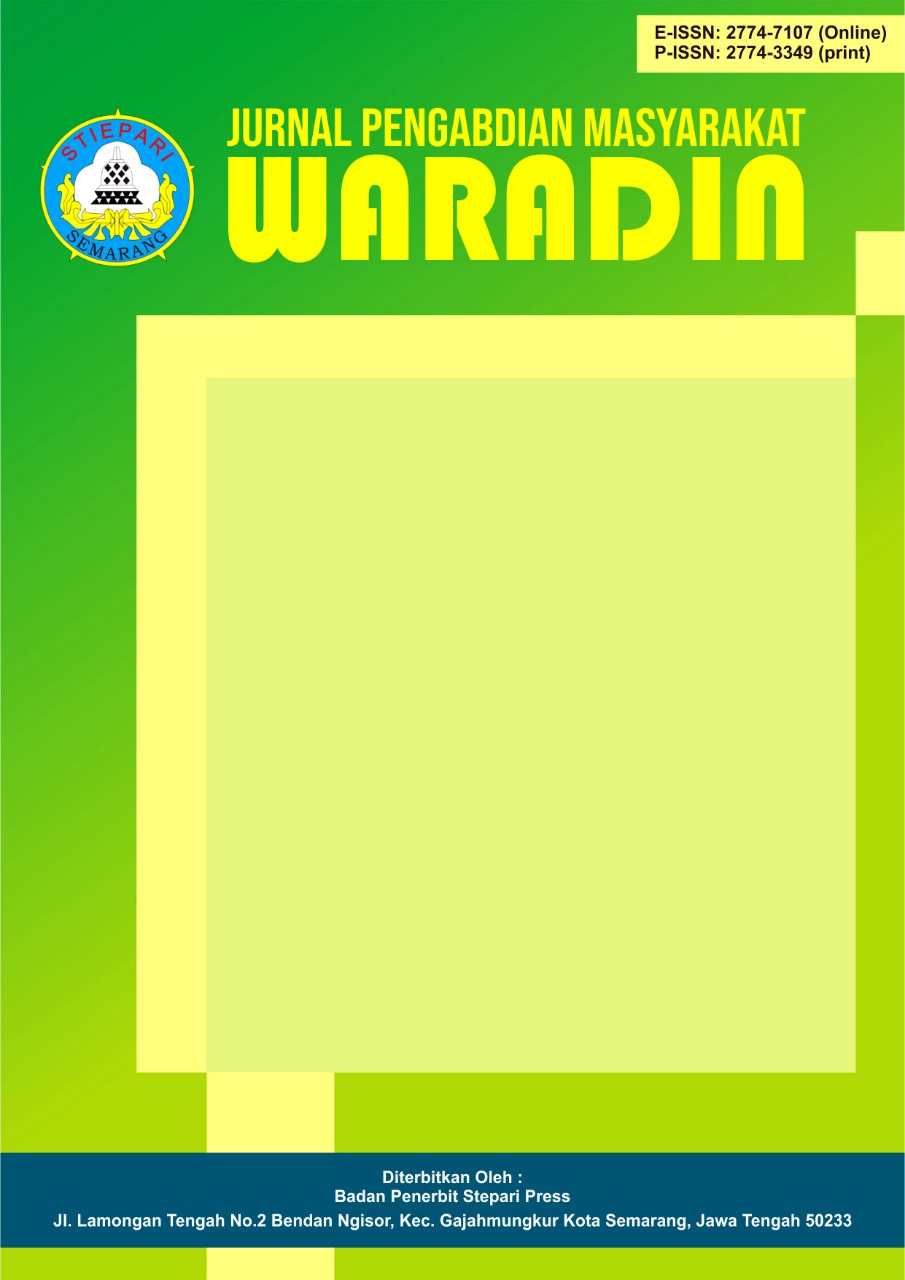 Downloads
How to Cite
Kurnia Yuli Sintakarini, Putri Kurniawati, Nabil Abiyu Rohman, Devi Claudia Vanessa Jorger, Nadhifatul Azizah Putri Bachtiar, Adistia Nurul Aini, Arifatur Rahma Putri, Eric Septian Anantha, Vivia Nur Salsabila Trisnalia, Ardi Zulva Budianto, Aji Qolbu Wibawa Syah'alam, & Dewi Puspa Arum. (2023). Strategi Marketing UMKM "ETES" Melalui Digital Marketing Terhadap Penerapan Integrated Marketing Communication (IMC). Jurnal Pengabdian Masyarakat Waradin, 3(2), 01–08. https://doi.org/10.56910/wrd.v3i2.280