Pelatihan Menjawab Prediksi Soal Bahasa Inggris: Reading Skill Sebagai Upaya Pembekalan Siswa Menghadapi Ujian Nasional Di SMP Negeri Sukadana
Keywords:
answer, questions in English, national exam
Abstract
In Indonesia, English is the first foreign language that is studied as a compulsory subject from junior high school to university. English is a very basic and important requirement in Indonesia. This is evident in the development of the current education system, English has been included as one of the subjects tested in the national exam. Based on the observations of class IX students at SMP Negeri Sukadana, in preparation for the national exam, many students still had difficulty answering English questions: reading skills. One of the causal factors of these student problems is the lack of practice by applying strategies to answer questions and do not have the skills to easily predict questions that will appear during the national exam. In addition, the lack of interest in learning English is also a major factor in learning English. Based on the results of the community service activities, it was shown that class IX students at SMP Negeri Sukadana were motivated so that they could optimize their abilities and skills in answering English questions: reading skills. Thus it can be concluded that in this service program students have gained experience in implementing strategies for quick predictions in identifying the right answers.
References
Akhmad, Sutiyono. 2014. Model Pengembangan Bahan Ajar Untuk Meningkatkan Keterampilan Berbicara Bahasa Inggris Siswa Sekolah Dasar di Bandar Lampung. Universitas Pendidikan Indonesia: Perpustakaan.upi.edu.
Aranti, Naya. 2022. Pentingnya Pembelajaran Bahasa Inggris di Sekolah. Jakarta: Universitas Islam Negeri Syarif Hidayatullah.
Maulia, Ana and Rinawati. 2018. Seri Pendalaman Materi (SPM) Bahasa Inggris. Jakarta: Erlangga.
Syafnidawaty. 2020. Model Pembelajaran Cooperative Learning. Tangerang: Universitas Raharja.
Zaida, Nur. 2018. X-Press UN SMP Bahasa Inggris. Jakarta: Erlangga.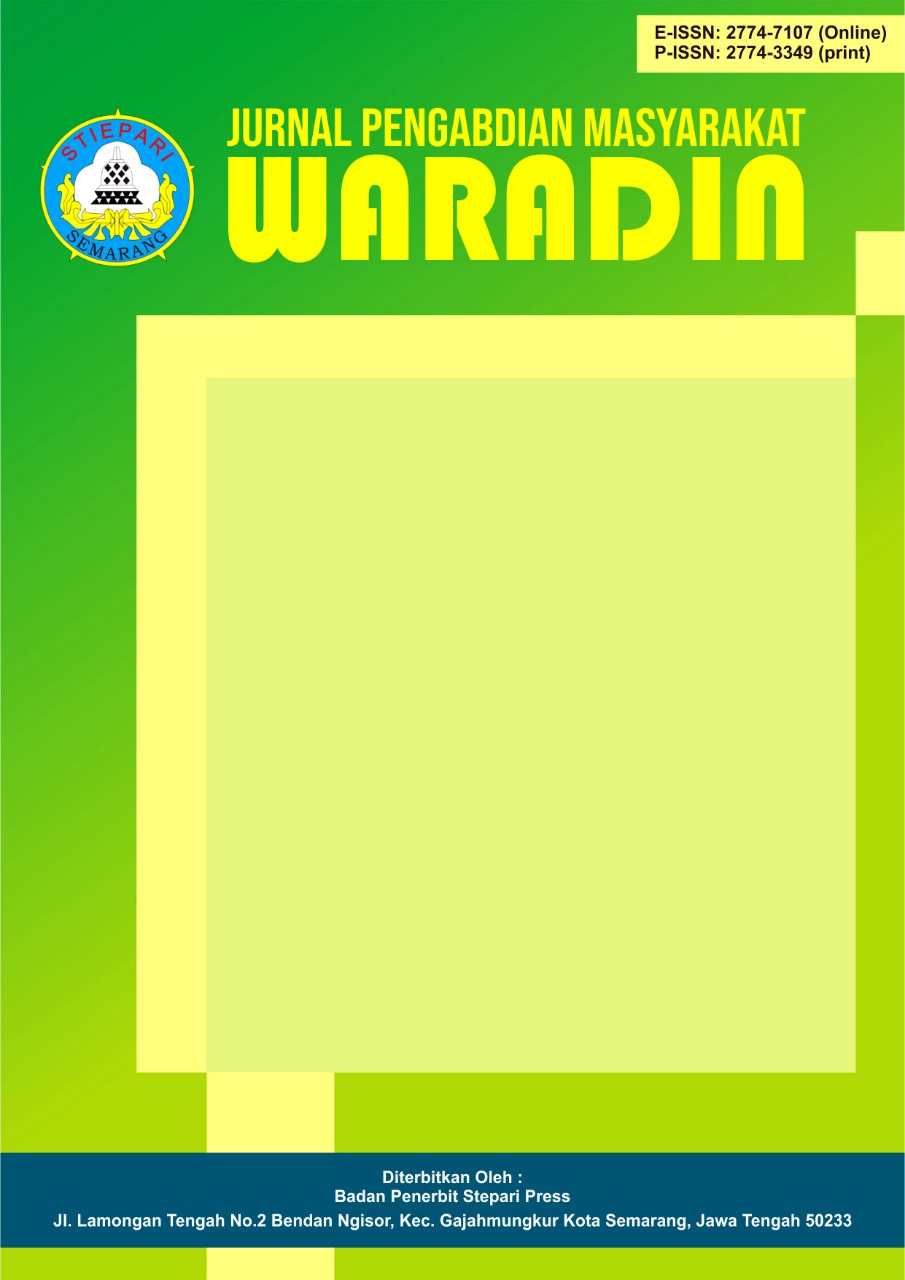 Downloads
How to Cite
Astri Riance, Herlina Herlina, & Sinta Sinta. (2023). Pelatihan Menjawab Prediksi Soal Bahasa Inggris: Reading Skill Sebagai Upaya Pembekalan Siswa Menghadapi Ujian Nasional Di SMP Negeri Sukadana. Jurnal Pengabdian Masyarakat Waradin, 3(2), 24–27. https://doi.org/10.56910/wrd.v3i2.288