Implementasi Pembuatan Label Kemasan Dan Digital Marketing Dalam Pengembangan Teknologi UMKM Di Kelurahan Bendo Kota Blitar
Keywords:
Soybean Crackers, Labeling, Digital Marketing
Abstract
The aim of this digital marketing training activity is to increase participants' knowledge in terms of utilizing digital platforms, as well as provide alternative livelihood options for participants to increase their income. Therefore, the identity of the product itself is needed in the industrial era 4.0. This research method was carried out offline using two sessions, namely, an explanation regarding labeling and digital marketing and practicing how to make labels. Therefore, KKN students carry out a work program in the form of regular assistance to MSME business actors related to making labels to make attractive packaging. The training for labeling and digital marketing has gone according to the wishes and expectations of two parties, namely the owner of the Soybean Crackers "BERKAH" UMKM and also from the East Java UPN "Veteran" Community Service Students. It is hoped that the holding of this training can support and further develop MSMEs in the Bendo Village area, Kepanjen Kidul District, Blitar City.
References
Adams, E. Kathleen, Nancy Breen, and Peter J. Joski. "Impact of the National Breast and Cervical Cancer Early Detection Program on Mammography and Pap Test Utilization among White, Hispanic, and African American Women: 1996–2000." Cancer 109, no. S2 (January 15, 2007): 348–358.
Dewi, Nurdiamah, and Achadiyani. "Pembentukan Kader Kesehatan untuk Meningkatkan Pengetahuan dan Kemampuan Melakukan Deteksi Dini Kanker yang Sering Terjadi Pada Wanita di Desa Sukamanah dan Desa Cihaurkuning, Kecamatan Malangbong Kabupaten Garut." Jurnal Aplikasi Ipteks untuk Masyarakat 2, no. 2 (November 2013): 78–84.
Hanafi, Mohammad, Nabiela Naily, Nadhir Salahudin, and A. Kemal Riza. Community-Based Research Sebuah Pengantar. 1st ed. Surabaya: LP2M UIN Sunan Ampel Surabaya, 2015.
Mardela, Aira Putri, Khomapak Maneewat, and Hathairat Sangchan. "Breast cancer awareness among Indonesian women at moderate-to-high risk." Nursing and Health Sciences 19 (2017): 301–306.
Muhid, A., Sumarkan, Rakhmawati, Fahmi, L. "Perubahan Perilaku Open Defecation Free (ODF) melalui Program Sanitasi Total Berbasis Masyarakat (STBM) di Desa Babad Kecamatan Kedungadem Kabupaten Bojonegoro". Engagement : Jurnal Pengabdian kepada Masyarakat 2, no. 1 (Maret 2018), 99–119.
Scarinci, Isabel C., Francisco A.R. Garcia, Erin Kobetz, Edward E. Partridge, Heather M. Brandt, Maria C. Bell, Mark Dignan, Grace X. Ma, Jane L. Daye, and Philip E. Castle. "Cervical Cancer Prevention: New Tools and Old Barriers." Cancer (2010): NA-NA.
Schiffman, Mark, Philip E. Castle, Jose Jeronimo, Ana C. Rodriguez, and Sholom Wacholder. "Human Papillomavirus and Cervical Cancer." The Lancet 370, no. 9590 (2007): 890–907.
Sulistiowati, Eva, and Anna Maria Sirait. "Pengetahuan Tentang Faktor Risiko, Perilaku Dan Deteksi Dini Kanker Serviks Dengan Inspeksi Visual Asam Asetat (Iva) Pada Wanita Di Kecamatan Bogor Tengah, Kota Bogor." Buletin Penelitian Kesehatan 42, no. 3 (September 2014): 10.
Tim Riset Penyakit Tidak Menular. Laporan Riset Penyakit Tidak Menular Tumor Payudara dan Lesi Prakanker Serviks. Jakarta: Kementrian Kesehatan RI, December 2016.
Wantini, Nonik Ayu. "Efek Promosi Kesehatan Terhadap Pengetahuan Kanker Payudara Pada Wanita Di Dusun Terongan, Desa Kebonrejo, Kalibaru, Banyuwangi, Jawa Timur." Jurnal Medika Respati 13 (2018): 8.
Yunitasari, Esti, Retnayu Pradanie, and Ayu Susilawati. "Pernikahan Dini Berbasis Transtuktural Nursing Di Desa Kara Kecamatan Torjun Sampang Madura." Jurnal Ners 11, no. 2 (2016): 6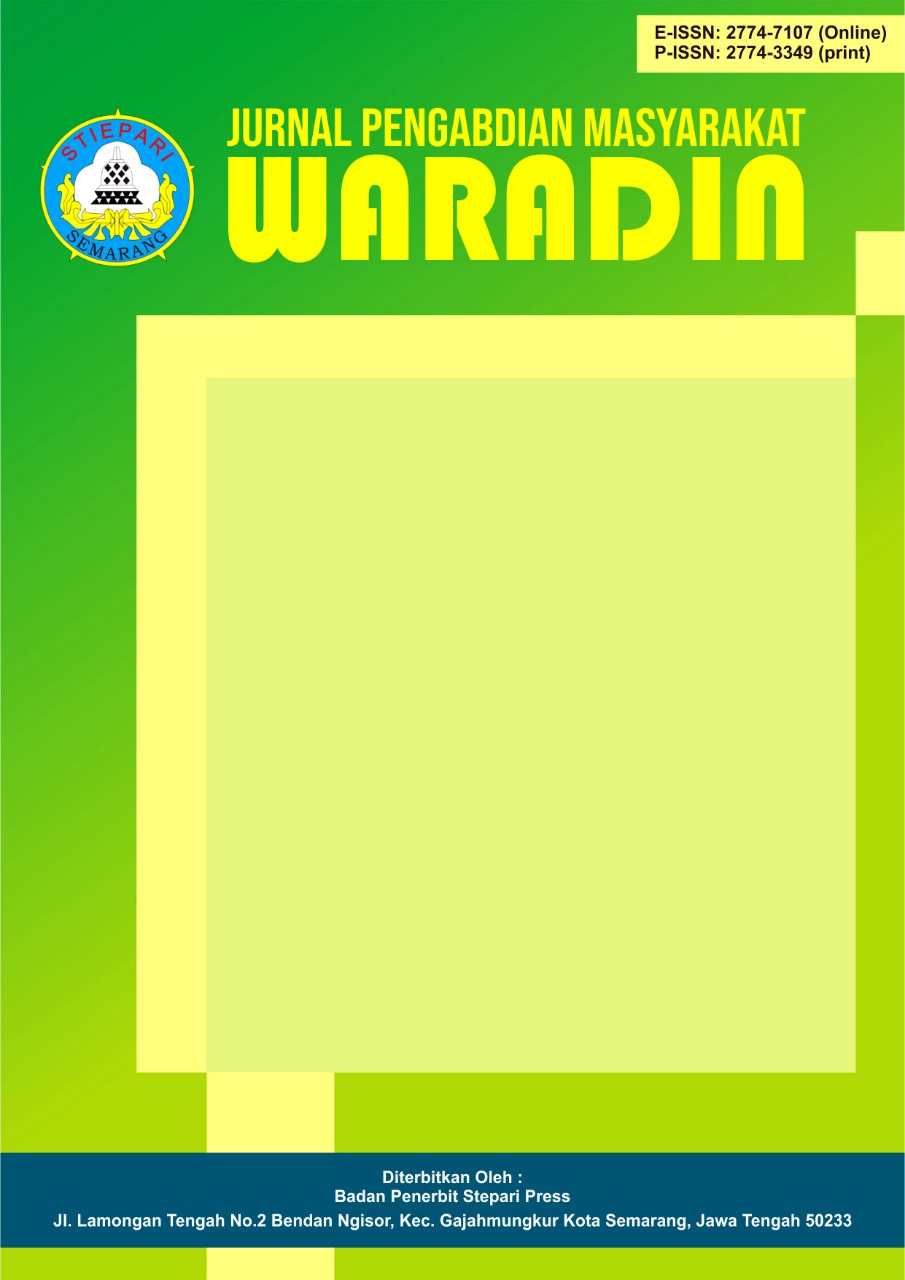 Downloads
How to Cite
Dewi Puspa Arum, Indah Sari Dwi Agustin, Hendrik Cahyono, Rizky Rianto, Santi Eka Rahmawati, Fajerul Dicky Saputra, & Ardhelia Damayanti Wirawan. (2023). Implementasi Pembuatan Label Kemasan Dan Digital Marketing Dalam Pengembangan Teknologi UMKM Di Kelurahan Bendo Kota Blitar. Jurnal Pengabdian Masyarakat Waradin, 3(2), 28–38. https://doi.org/10.56910/wrd.v3i2.290