Pelatihan E-Learning Google Classroom (Gcr) Sebagai Platform Pembelajaran Di Dalam Kelas Di Sma N 1 Pinogaluman
Keywords:
e-learning, google classroom, pembelajaran jarak jauh
Abstract
Tujuan dari pengabdian ini adalah untuk menambah pengetahuan dan wawasan tentang inovasi pembelajaran berbasis E-learning bagi siswa-siswi SMA N 1 Pinogaluman dengan melalui kegiatan pelatihan penggunaan ClassRoom. Kegiatan ini dihadiri oleh siswa, guru pamong, dengan metode implementasi pengabdian menggunakan metode ceramah, pertanyaan dan jawaban,  serta  simulasi.  Setelah  kegiatan  pelatihan  tersebut  semua  siswa  SMA  N  1Pinogaluman dapat memahami dan akan menggunakan google ClassRoom dalam proses pembelajaran jarak jauh.
References
Siemens, G. (2002). Instructional Design in E-learning.
Roki Hardianto & Musfawati (2021). Sosialisasi penggunaan Blended Learning
sebagai penunjang pembelajaran daring dimasa pandemi covid-19.
Rusman. (2012). Belajar dan Pembelajaran Berbasis Komputer. Bandung: Alfabeta
Hartvig, A. S., & Brooks, E. P. (2013). Universal Access in Human-Computer
Interaction. Applications and Services for Quality of Life. Berlin: Springer Berlin Heidelberg
Bates, A. W.(2005). Technology, e-learning and distance education.
Marlina, E. (2020, Juli). PENGEMBANGAN MODEL PEMBELAJARAN
BLENDED LEARNING BERBANTUAN APLIKASI SEVIMA EDLINK. Jurnal Padegogik,3(2), 11-17.
Wibowo, A.,& Rahmayanti, I. (2020). Penggunaan Sevima Edlink Sebagai
Media Pembelajaran Online Untuk Mengajar Dan Belajar Bahasa Indonesia. Imajeri: Jurnal Pendidikan Bahasa dan Sastra Indonesia, 163-174..740
Siska anggita, & basar lolo siahaan,. (2022). Pelatihan e-learning google classroom
dalam mengembangakan soft skill guru smp negeri 11 pematangsiantar. Imajeri: Jurnal Pendidikan Bahasa dan Sastra Indonesia, 163-174..740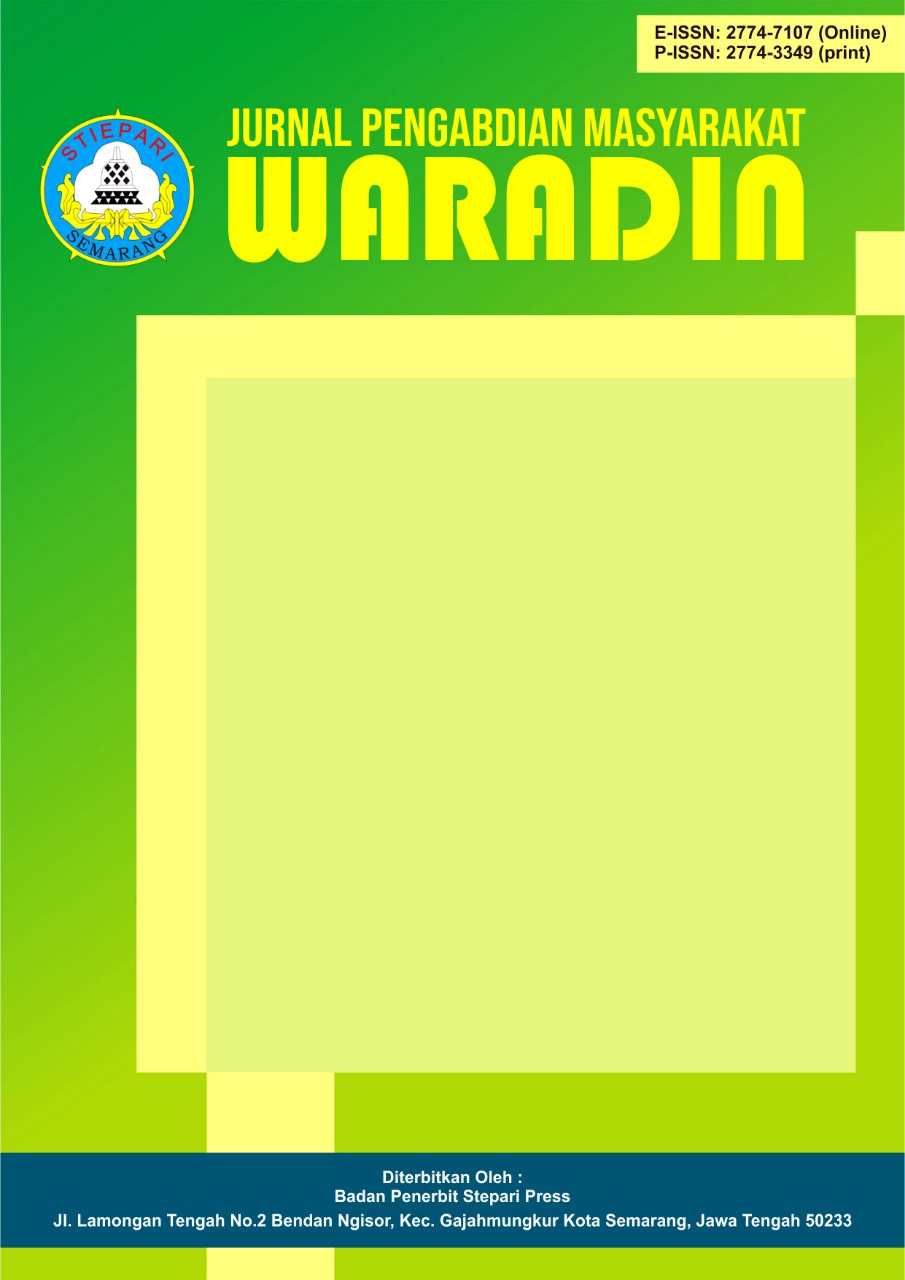 Downloads
How to Cite
Hermila A, Rahmat Taufik R.L Bau, Sri Ayu Ashari, Indra Farman, Romanda Hippy, Fatma Hasan, Winda Olivia Pakaya, & Desy Shintia H Kiding. (2023). Pelatihan E-Learning Google Classroom (Gcr) Sebagai Platform Pembelajaran Di Dalam Kelas Di Sma N 1 Pinogaluman. Jurnal Pengabdian Masyarakat Waradin, 3(2), 55–57. https://doi.org/10.56910/wrd.v3i2.301