Potensi Perkembangan Halal Food di Denpasar Bali
Keywords:
halal, tourism, halal food, halal holiday.
Abstract
This study provides a clear description of the word halal and some activities related to Halal Tourism. Halal tourism which is a sub-category of tourism aimed at Muslim families who adhere to Islamic rules. In addition, it is expected to know that halal tourism is very good for supporting and creating jobs and foreign exchange which is quite high, moreover it is developed with an environmentally friendly sustainable concept. And from this research it can be concluded how big the potential for developing halal food is in Denpasar, Bali.
References
Admin. (2021, Juli 9). Pathuk Jogja, Ternyata Nama Kampung. Retrieved from safarajogja
Anugrah, F. (2021, Desember 6). Wajit Cililin, Camilan Khas Bandung Favorit Menak Sejak Abad ke-15. Retrieved from bandungmu.com
Bonita, F. F. (206). ANALISIS KUALITAS FASILITAS WISATA BERDASARKAN PERSEPSI
PENGELOLA DAN PENGUNJUNG. Retrieved from repository.upi.edu: http://repository.upi.edu/27103/4/S_MRL_1200352_Chapter1.pdf
Hasnah, V. A., & Nugroho, S. P. (2021). GASTRONOMI MAKANAN YOGYAKARTA SEBAGAI
ATRAKSI WISATA KULINER. Undergraduate Conference on Language, Literature, and Culture (UNCLLE), 143.
Nana. (2022, April 22). Tempat Wisata Daerah Cililin Bandung Barat yang Instagramable dan Seru.
Nugroho, S. P., & HD, I. H. (2020). GASTRONOMI MAKANAN KHAS KERATON YOGYAKARTA SEBAGAI UPAYA PENGEMBANGAN WISATA KULINER. Jurnal Pariwisata .
sibakul. (2022, Agustus 1). Bakpia Pathuk : Sejarah dan Keunikannya. Retrieved from SibakulJogja
https://safarajogja.com/bakpia-pathuk-jogja
https://mamikos.com/info/tempat-wisata-cililin-bandung-baratyanginstagramable-dan-seru-gnr/
https://sibakuljogja.jogjaprov.go.id/pasarkotagedeyia/blog/2022/08/01/bakpiapathuk-sejarah-dan-keunikannya/
https://bandungmu.com/wajit-cililin-camilan- khas-bandung-favorit-menak-sejakabad-ke-15/
https://www.kemenag.go.id/read/bpjph-halal-tourism-potensial-perkuat-industri wisata-indonesia-n35b2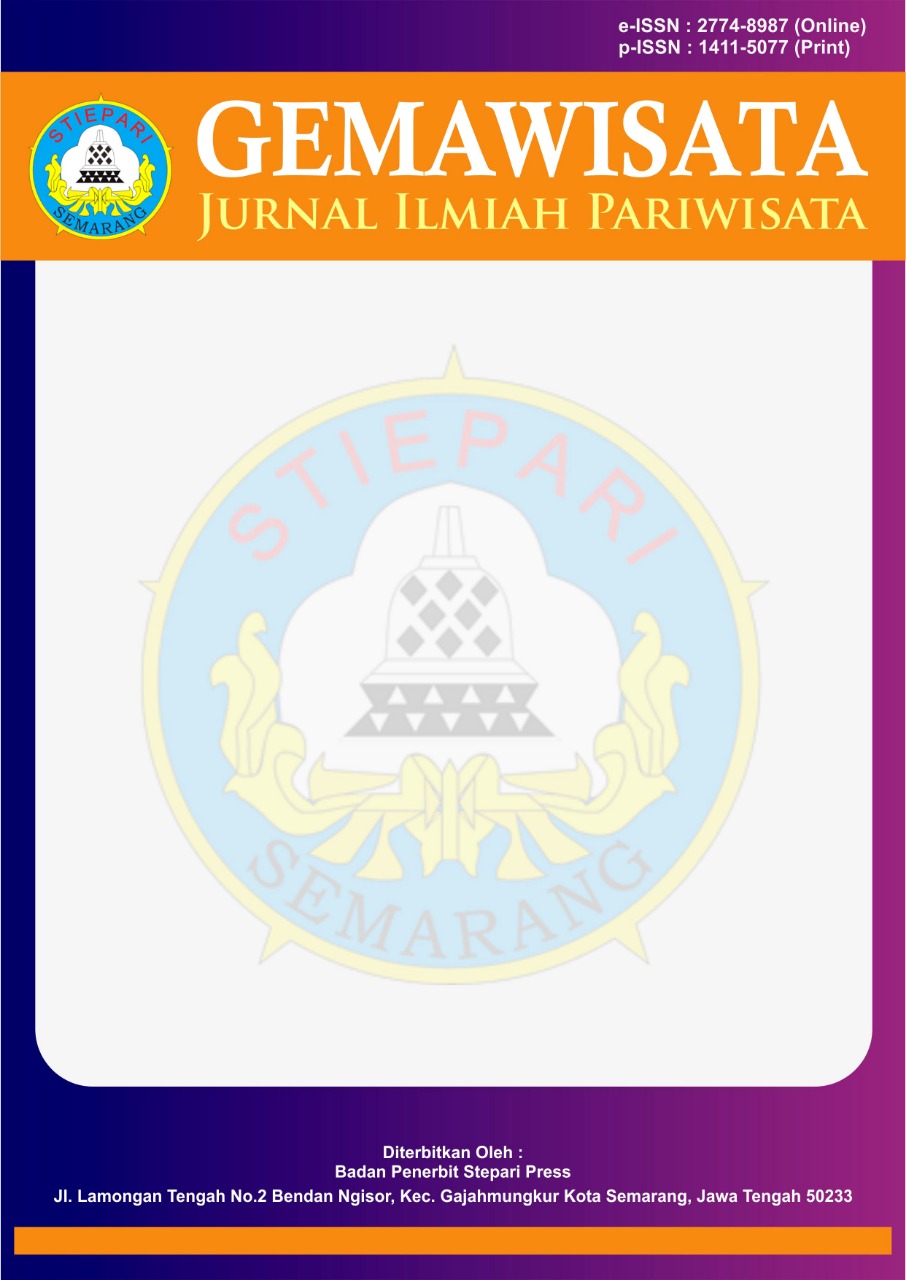 Downloads
How to Cite
Rifky Setiawan, & Muhammad Mirza Pahlevi. (2023). Potensi Perkembangan Halal Food di Denpasar Bali. Gemawisata: Jurnal Ilmiah Pariwisata, 19(1), 34–39. https://doi.org/10.56910/gemawisata.v19i1.269