Peran Penting Pokdarwis Dan Kualitas Sumber Daya Manusia Desa Carangwulung dalam Pengelolaan Wisata Alam Grojogan Selo Gonggo
Keywords:
The Pokdarwis Role, Natural Tourism, Carangwulung Village
Abstract
The tourism potential in Carangwulung Village is very diverse and has the opportunity to be developed into a tourist attraction. There are eight tourist destinations that have been developed in Carangwulung village, one of which is the Grojogan Selo Gonggo (GSG ) nature tourism. This tourist attraction is natural attractions that come from mountain water and also pine forests. Opportunities for tourism activities at GSG are very good, if the local community and the management are able to work together to achieve the expected goals. However, the fact is that over time the people who participate in managing the GSG experience a decrease in tourism awareness. This will not affect the future development of GSG natural tourism as tourism that is of interest to tourists. Therefore, the awareness of the Carangwulung village tourism community needs to be increased again so that the development of the GSG nature tourism is not in vain and gets maximum benefits from tourism activities. The formation of POKDARWIS and improving the quality of human resources play an important role in developing GSG natural tourism, with the aim of making GSG a tourist destination that is of interest to many tourists.
References
Assidiq, K. A., Hermanto, H., & Rinuastuti, B. H. (2021). Peran Pokdarwis Dalam Upaya Mengembangkan Pariwisata Halal Di Desa Setanggor. Jmm Unram - Master of Management Journal, 10(1A), 58–71. https://doi.org/10.29303/jmm.v10i1a.630
Desiati, R. (2013). Pemberdayaan Masyarakat melalui Pengelolaan Program Desa Wisata. Diklus: Jurnal Pendidikan Luar Sekolah, 17(1), 253–262. https://journal.uny.ac.id/index.php/diklus/article/view/2894
Pratidina Santoso, A. A. (2022). Pemberdayaan Masyarakat Melalui Program Desa Wisata Di Kelurahan Kandri Kecamatan Gunungpati Kota Semarang Provinsi Jawa Tengah. J-3P (Jurnal Pembangunan Pemberdayaan Pemerintahan), 7(2), 33–48. https://doi.org/10.33701/j-3p.v7i2.2930
Rohimah, A., Hariyoko, Y., & Ayodya, B. P. (2018). Jurnal Ilmiah Administrasi Publik ( JIAP
) Strategi Pengembangan Potensi Pariwisata Melalui Pendekatan Community Based.
Jurnal Ilmiah Administrasi Publik (JIAP), 4(4), 363–368.
Yatmaja, P. T. (2019). Efektivitas Pemberdayaan Masyarakat 0Leh Kelompok Sadar Wisata (Pokdarwis) Dalam Mengembangkan Pariwisata Berkelanjutan. Administratio: Jurnal Ilmiah Administrasi Publik dan Pembangunan, 10(1), 27–36. https://doi.org/10.23960/administratio.v10i1.93
Murianto1), I. N. T. D. P. & R. K. (2020) 'PERANAN POKDARWIS BATU REJENG UNTUK MENGEMBANGKAN DESA SENTILING LOMBOK TENGAH', Jurnal
Inovasi Penelitian, 1(1), pp. 21–26.
Purwanti, I. (2019) 'Strategi kelompok sadar wisata dalam penguatan desa wisata', Jurnal Ilmu Sosial dan Politik, 8(3), pp. 101–107. Available at: www.publikasi.unitri.ac.id.
Fiki Andriyanto1, A. W. (2021) 'Peran pokdarwis dewa bejo dalam pemberdayaan masyarakat desa wisata bejiharjo', Jurnal Pembangunan Pemberdayaan Pemerintah, 6(November), pp. 115–131. Available at: http://ejournal.ipdn.ac.id/jpdpp.
Ardana, P. E. P. dan D. M. J. (2019) 'PERAN KELOMPOK SADAR WISATA (POKDARWIS) DALAM PENGEMBANGAN PARIWISATA DI DESA MUNDUK
KECAMATAN BANJAR KABUPATEN BULELENG', Jurnal Locus Majalah Ilmiah, 11(1), pp. 1–17.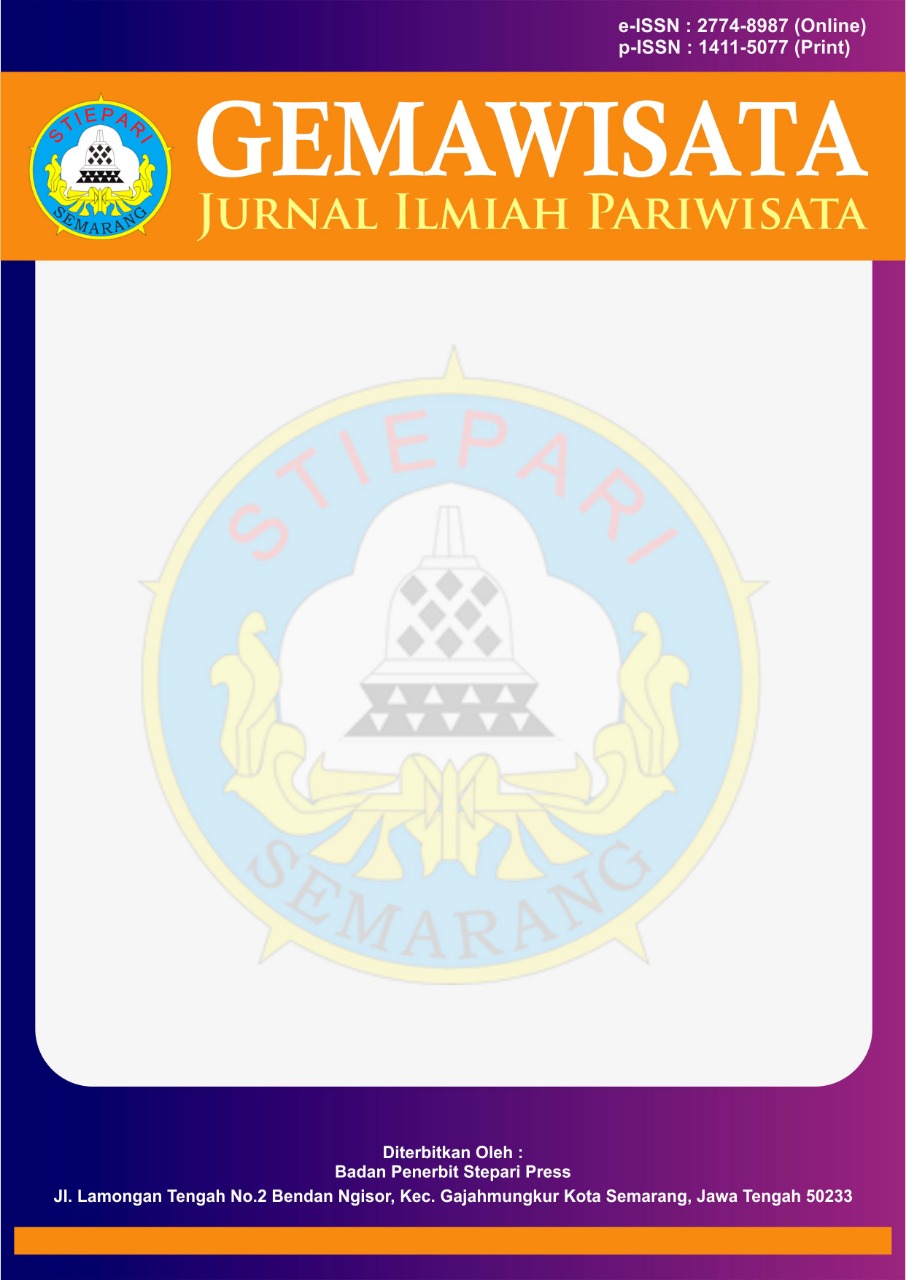 Downloads
How to Cite
Vicky Al-Hafiz, Firdha Amalia, Zalfaa' Fairuuz, Dhian Satria Yudha Kartika, Ramadhan Eka Syahputra, & Diva Zahwa. (2023). Peran Penting Pokdarwis Dan Kualitas Sumber Daya Manusia Desa Carangwulung dalam Pengelolaan Wisata Alam Grojogan Selo Gonggo. Gemawisata: Jurnal Ilmiah Pariwisata, 19(2), 19–26. https://doi.org/10.56910/gemawisata.v19i2.308