Alternatif Metode Wisata Backpacker Pasca Pandemi Di Karimun Jawa
Keywords:
Travel, Backpacker, Millennial, Karimun Jawa.
Abstract
Tourism is indeed something that many people like, but a limited budget is the main reason for people not to go on a tour. Backpacking is a trip to a place without carrying burdensome items or a suitcase, making it easier to travel from one destination to another. Karimunjawa is one of the tourist destinations favored by the Jepara Regency Government and the Central Java Provincial Government. Still beautiful and preserved nature Karimunjawa is the main attraction. According to Tourist Visit Statistics Data by TIC Jepara (Jepara Tourism Information Center), in 2018 the number of tourists who came to visit Karimunjawa was 137,835 people. With details of 129,679 domestic tourists, and 8,156 foreign tourists. (TIC Jepara, 2018). With this backpacker method, it is hoped that it can become an alternative cheap travel method to increase tourists in Karimun Jawa after the pandemic.
References
Zainal, Arifin (2008). Potensi dan Pengembangan Paket Wisata KarimunJawa. Laporan Tugas Akhir Universitas Sebelas Maret.
Permata, Cahyani (2015). Perilaku penemuan informasi kelompok backpacker di Surabaya.
Skripsi Universitas Airlangga.
Rhama, Bhayu (2022). Local communities and tourists adaptation to pandemic-induced social disruption : Comparing national parks and urban destinations. Journal of Disaster Risk Reduction.
Yar Johan, 2011, "Pengembangan Wisata Bahari dalam Pengelolaan Sumber Daya Pulau-Pulau Kecil Berbasis Ekologi: Studi Kasus Pulau Sebesi Provinsi Lampung", Tesis, Pascasarjana Institut Pertanian Bogor, BogorSantich, B. (2004). The study of gastronomy and its relevance to hospitality education and training. International Journal of Hospitality Management, 23, 15-24.
Bengen, D.G., 2001, Ekosistem dan Sumber Daya Alam Pesisir dan Laut. Bogor: Pusat Kajian Sumber Daya Pesisir dan Lautan, Institut Pertanian Bogor.
Nugraha, S. I., & Rafdinal, W. (2022). Pengaruh Destination Image dan Perceived Risk terhadap Revisit Intention melalui Tourist Satisfaction di Kampung Wisata Sejarah dan Budaya Braga. Prosiding Industrial Research …, 13–14. https://jurnal.polban.ac.id/ojs3.1.2/proceeding/article/view/4208%0Ahttps://jurnal.polban.ac.id/ojs- 3.1.2/proceeding/article/download/4208/2787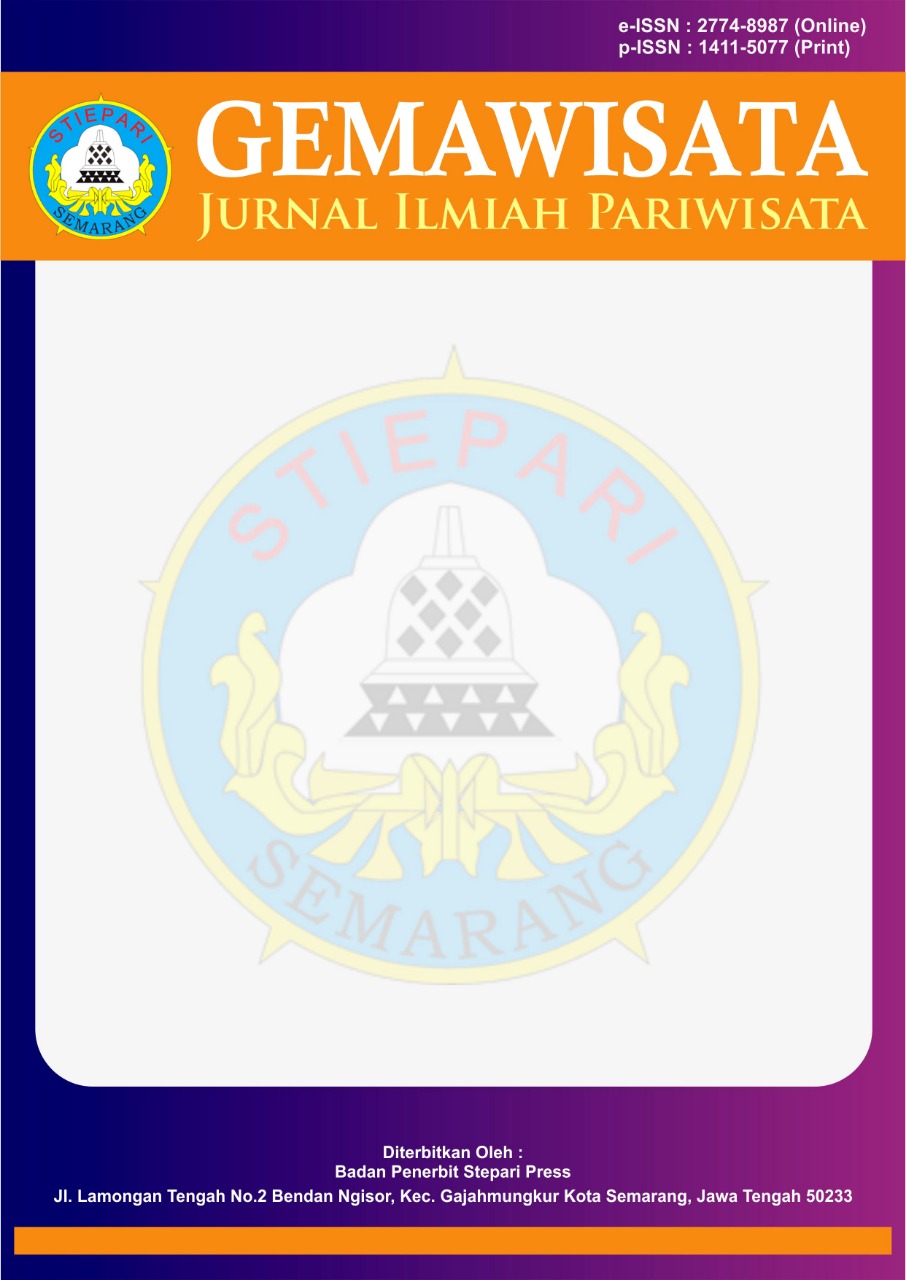 Downloads
How to Cite
Arnold Yudi Nanlohy, & Dimas Pura Dedityatama. (2023). Alternatif Metode Wisata Backpacker Pasca Pandemi Di Karimun Jawa. Gemawisata: Jurnal Ilmiah Pariwisata, 19(1), 40–48. https://doi.org/10.56910/gemawisata.v19i1.270