PENGARUH KUALITAS PELAYANAN, CITRA, DAN FUNGSI OTA (ONLINE TRAVEL AGENT) TERHADAP KEPUTUSAN TAMU MENGINAP DI MASA PANDEMI COVID-19 (Studi Kasus Pada Hotel Grand Dian Brebes)
Keywords:
Service Quality, Image, OTA (Online Travel Agent) Functions Guest Decisions to Stay
Abstract
This research was conducted at the Grand Dian Hotel Brebes which aims to analyze and explain the influence of service quality, image and function of OTA (online travel agent) which is in poor condition due to lack of updates from OTA (Online Travel Agent) about hotel information, and prices from OTA (Online Travel Agent) is unstable.
Research data obtained through questionnaires and interviews. The sample used in the study were 94 respondents. The research results are expected to provide useful information for management and employees. The data obtained were processed using descriptive analysis and quantitative statistical analysis. Quantitative analysis used multiple regression analysis to determine the effect of the independent variable on the dependent variable, test the model, test the hypothesis, and before doing the test, the validity and reliability tests were carried out first.
The results of the regression analysis show that the increase in guest decisions to stay is directly influenced by the quality of service, image and function (online travel agent). The results of the multiple regression analysis test showed a significant F value, with a correlation value of determination adjusted R2 square of 0.610. This shows that the quality of service, image and function (online travel agent) significantly influence the decision of guests to stay together with a close relationship of 61.0%. This shows that to improve the decision of staying guests, it is necessary to improve the quality of service, as well as the image and function of a good OTA (online travel agent) in the eyes of the community, it will increase the decision of guests to stay in the next period.
References
Aqib, Zainal. 2008. Penelitian Tindakan Kelas Untuk Pariwisata. Bandung: Yrama Widya.
Ariawan, Putu I, 2018. Peranan E-Commerce Dan Brand Image Terhadap Keputusan Menginap Tamu Di Anulekha Resort And Villa Ubud. Vol.4 No.12, pp. 120-125.
Basu Swastha dan Irawan, 2005.Asas-asas Marketing. Yogyakarta: Liberty
Brian, F. Foster, John W. Cadogan 2000, "Relationship selling and Customer Loyalty: an empirical investigation," Marketing Intelligence & Planning, Vol. 18 No.4, pp. 185-199.
Dobni, D. and Zinkhan, G.M. (1990), " In search of brand image: a foundation analysis", in Goldberg. M.E., Gorn, G. and Pollay, R. W. (Eds), Advances in Consumer Research, Association for Consumer Research, Provo, UT, pp. 110-119.
Elhaitammy, 2009. Service Excelencce, Ujung Tombak Bank Marketing, Bank dan Manajemen. Yogyakarta: Andi.
Estes, J.E. et al., 1983, Fundamentals of Image Interpretation, In Manual of Remote Sensing Vol.1 Second Edition, R.N. Colwell :ed in clief, ASP., Falls Church, Virginia
Ghozali, Imam. 2006. Aplikasi Analisis Multivariate Dengan Program SPSS. Badan Penerbit Universitas Diponegoro : Semarang
Hartimbul Ginting, Nembah F. 2011. Manajemen Pemasaran. Bandung: CV YramaWidya
Hartini, Sri. 2017. Pengaruh Kualitas Pelayanan, Fasilitas, Harga Dan Lokasi Terhadap Keputusan Konsumen Untuk Menginap Di Hotel Sakura Palangka Raya. Vol.15 No.13 pp.122-130.
Hasan, Iqbal. 2006. Analisis Data Penelitian dengan Statistik. Jakarta: Bumi Aksara.
Hendriyati, Lutfi. 2019. Pengaruh Online travel agent Terhadap Pemesanan Kamar Di Hotel Mutiara Malioboro Yogyakarta. Vol.9 No.21, pp. 12-20.
Ismayanti. 2010. Pengantar Pariwisata. Jakarta: PT Gramedia Widisarana Indonesia
J. Supranto, 2006, Pengukuran Tingkat Kepuasan Pelanggan :Untuk Menaikkan Pangsa Pasar, Jakarta: Rineka Cipta
Kesrul, M., 2012.Meeting Incentive Trip, Conference and Exhibition. Jakarta: Graha Ilmu.
Kotler, Amstrong. 2001. Prinsip-prinsip pemasaran, Edisi kedua belas, Jilid 1. Jakarta: Erlangga.
Kotler, Philip dan Armstrong Gary,2008. Manajemen Pemasaran, Edisi 12,Jilid 1, Jakarta: PT.Indeks.
Kotler, Philip dan Kevin Lane Keller., 2007, Manajemen Pemasaran, Edisi Kedua Belas, Jilid 1, dialih bahasakan oleh Benjamin Molan, Jakarta: PT Indeks.
Kotler, Philip, 1997, Marketing Management: Analysis, Planning, Implementation, and Control, 9th Ed., Englewood Cliffs, NJ: Prentice Hall, Inc.
Kotler, Philip, 2000.Manajemen Pemasaran, Jakarta: PT. Prenhallindo,
Lo,C. P. 1976. Geographical Applicatin of Remote Sensing.David and Charles. London.
Marpaung, H. 2002. Pengetahuan Kepariwisataan Edisi Revisi. Bandung: Alfa Beta.
Mustafid dan Aan Gunawan. 2008. Pengaruh Atribut Produk Terhadap Keputusan Pembelian Kripik Pisang "Kenali" Pada PD. Asa Wira Perkasa Di Bandar Lampung. Jurnal Bisnis dan Manajemen. (4)2. 123- 140
Pendit, Nyoman S. 1990, Ilmu Pariwisata Sebuah Pengantar Perdana. Jakarta: PradnyaParamita.
Prianto, Joko, 2021. Pengaruh Kualitas Pelayanan Terhadap Keputusan Menginap Tamu di Hotel Kristal Jakarta. Vol. 3 No.1
R.S Damardjati., 2009. Istilah-istilah Dunia Pariwisata. Jakarta: Pradnya Paramita.
Radji, Maksum. 2009. Buku Ajar Pariwisata: Panduan Mahasiswa Pariwisata Dan Perhotelan. Jakarta: EGC.
Ruslan, Rosady. 1998. Manajemen Public Relations dan Media Komunikasi. Jakarta: PT. Raja Grafindo Persada.
Sarasdiyanthi, Ni Kadek Ayu Marini. 2016. Pengaruh Citra Merek Dan Persepsi Kualitas Pelayanan Terhadap Keputusan Pembelian pada Online travel agent Airasia Go. Vol. 7 No.12.
Smith, R, 1995, Chemical Process Design, McGraw Hill International Book Company, Singapore
Sugiyono, 2008. Metode Penelitian Kuantitatif, Kualitatif dan R&D. Bandung; Alfabeta
Waluyo.Wirawan B. Ilyas. 2002. Perpajakan Pariwisata Indonesia. Jakarta: Salemba Empat.
Yoeti, Oka A. 2003. Perencanaan dan Pengembangan Pariwisata. Jakarta: PT. Pradnya Paramita.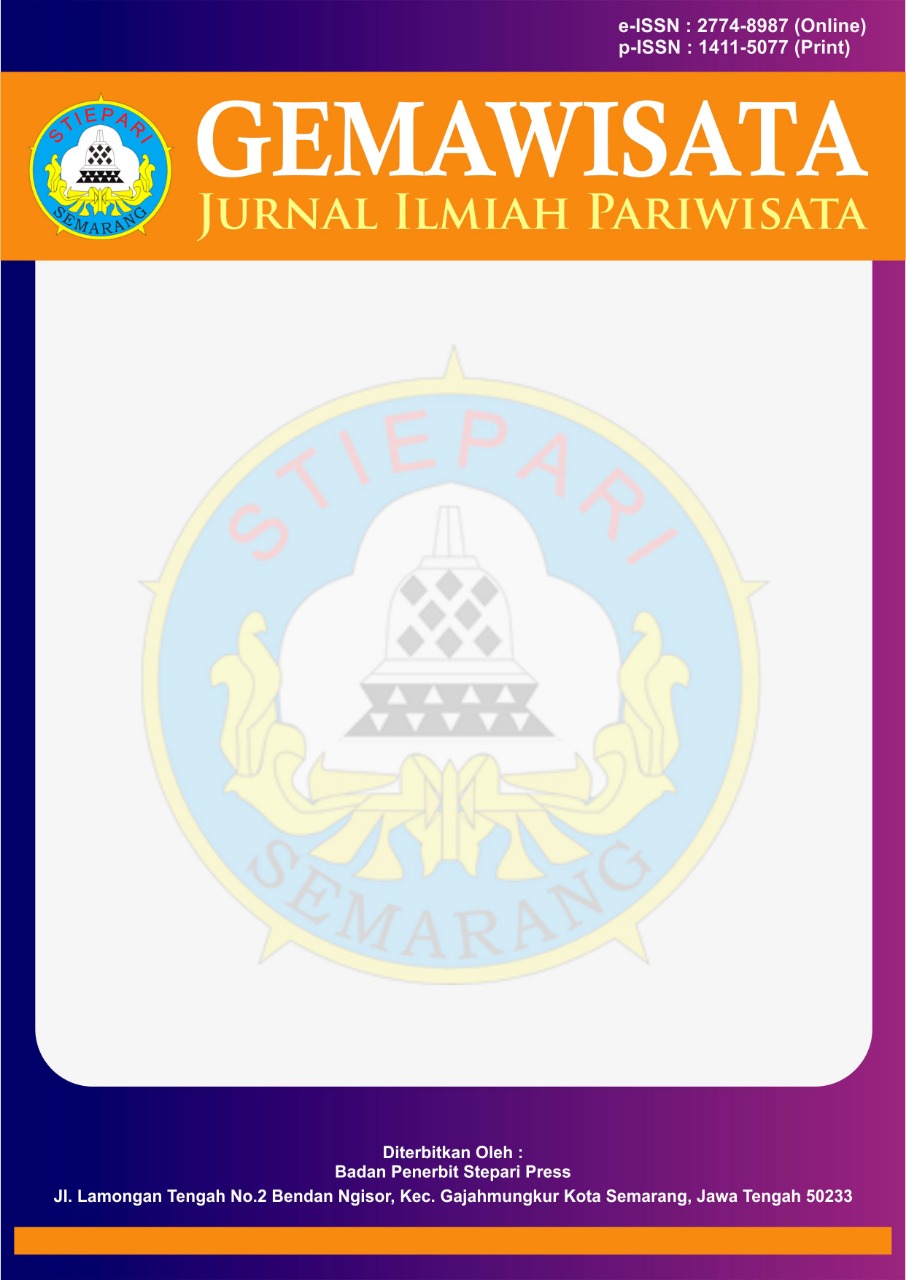 Downloads
How to Cite
Desy Rahmawati Lukmana, Haniek Listyorini, Ray Octafian, & Hendrajaya Hendrajaya. (2023). PENGARUH KUALITAS PELAYANAN, CITRA, DAN FUNGSI OTA (ONLINE TRAVEL AGENT) TERHADAP KEPUTUSAN TAMU MENGINAP DI MASA PANDEMI COVID-19 (Studi Kasus Pada Hotel Grand Dian Brebes). Gemawisata: Jurnal Ilmiah Pariwisata, 19(2), 49–74. https://doi.org/10.56910/gemawisata.v19i2.313